Best cloud accounting software for e-commerce
Vencru is the best cloud accounting software for E-commerce businesses, as it would take away the burden and complications of manual bookkeeping.
With the recent happenings in the world, a lot of small businesses have had to shift their sales and operations totally online. With the wide range of e-commerce platforms available, not only are businesses able to bring their businesses online, but they are also able to diversify their streams of income.
But with this newly adapted means of selling comes a bigger need. A simplified tool to help track your business and sell your business online. With Vencru, the best e-commerce cloud based accounting software, you can increase business productivity, while also ensuring you stay on top of your business.
Vencru gives you an easy to use accounting software that allows you to create and send professional invoices and receipts, manage inventory, manage clients, get simplified business reports, etc.
The best cloud accounting software for e-commerce
Vencru is the best accounting software for e-commerce businesses. It is already a lot of hard work managing your business online. Vencru reduces the burden that comes with manually having to do your accounting. It leaves you with enough time to focus on the core of your business- business growth.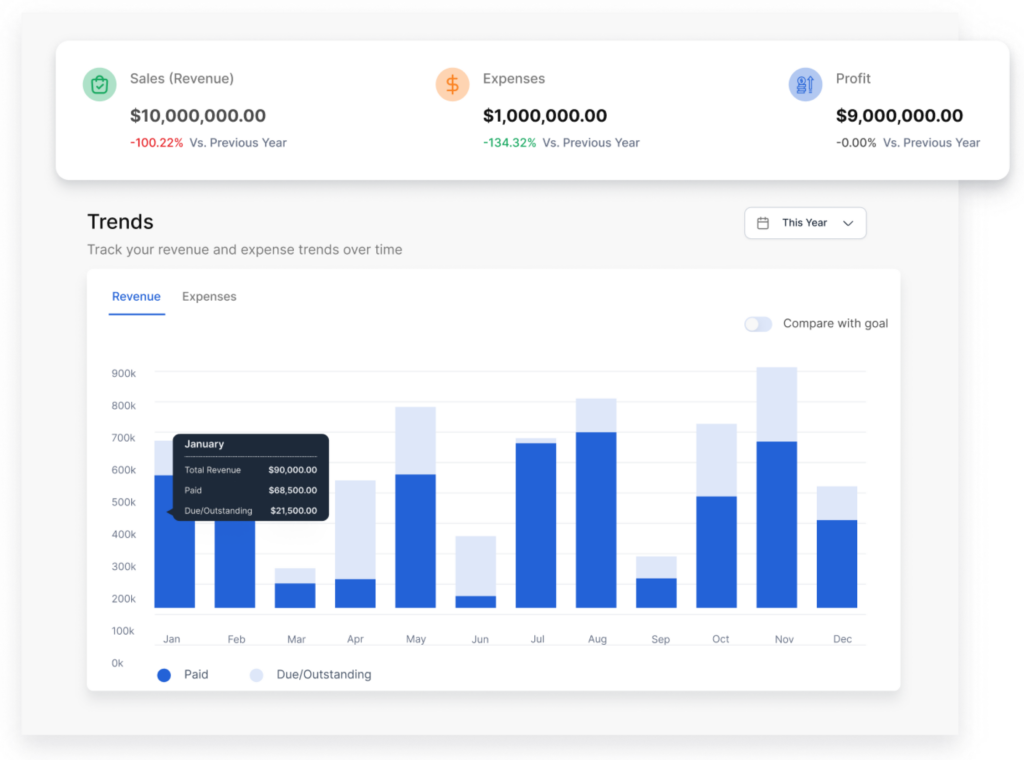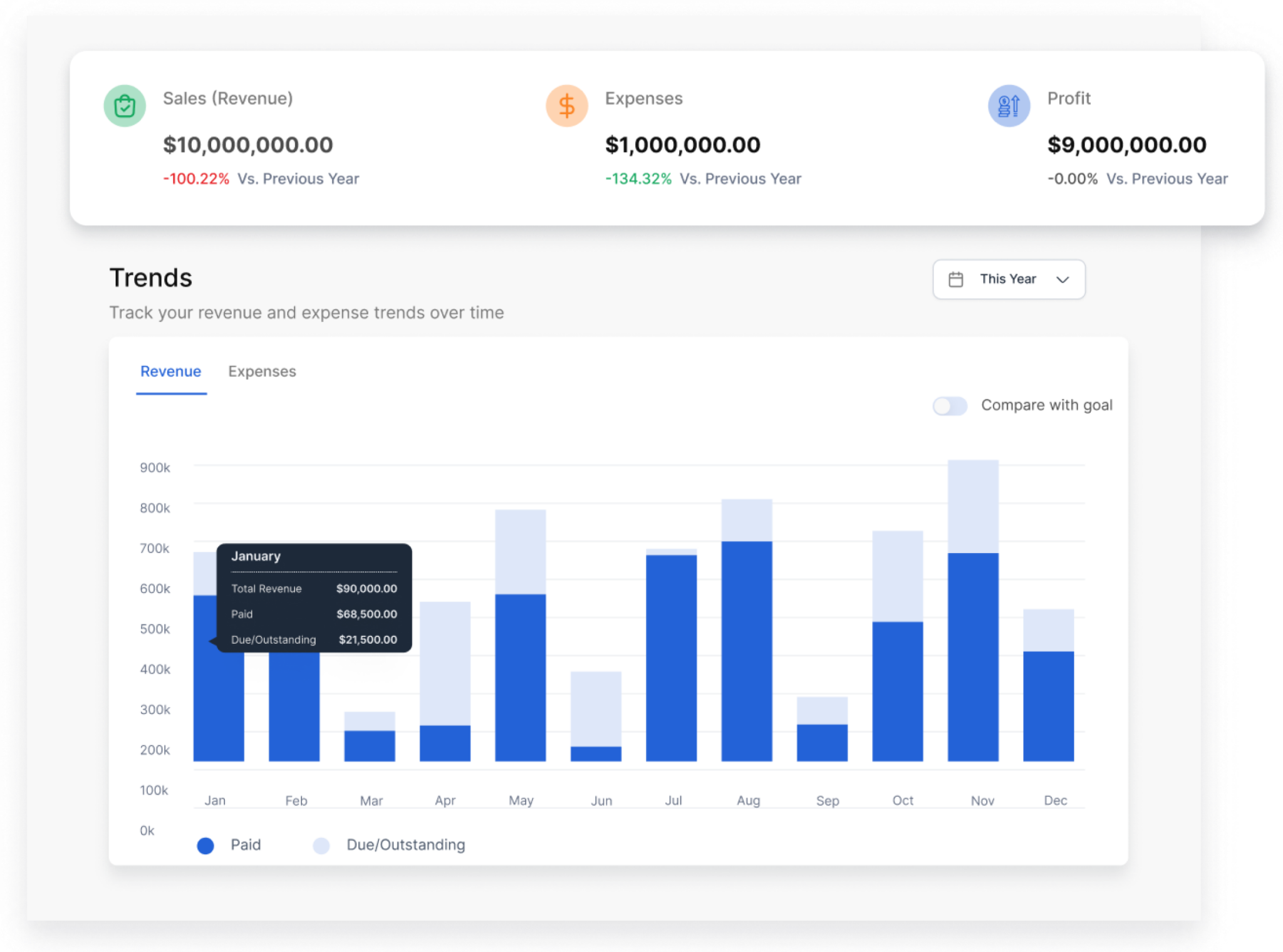 Organize and manage your e-commerce business with Vencru inventory management software. Carry out proper inventory tracking of items as they move across different channels, with Vencru's multi-sales channel system.
Scale your business operations, automate stock updates, and fulfill orders effectively in real time.
When you sell items across multiple channels using Vencru, not only is your inventory updated and stock alerts got, but it also automatically updates your stock in your e-commerce platform.
Carry out periodic stock analysis. Avoid products running out of stock. If you sell products with expiry dates, easily track these items.
Improve customer satisfaction by ensuring that items never run out of stock. Get updated insights into your inventory valuation and know what your most purchased item is.
Small business owners like yourself can stay on top of their business accounting. Our accounting system is programmed to perform inventory control, with the built-in inventory tracking system.
Connect Vencru with different online payment gateways and ensure swift and secure payments. Enjoy a faster and more seamless payment process from your customers. Increase your chances of getting paid 5x faster. With Vencru e-commerce software, your customers can pay you directly from invoices, using their debit or credit cards.
Categorize and bundle items
Manage your e-commerce inventory better by categorizing and bundling your items. Differentiate items based on color, size, unit, etc. Add individual taxes to items as well as generate new item or stock numbers and stock names.
Still struggling with Quickbooks? Migrate easily to Vencru and get the best of modern functionalities for your business.
Vencru provides a robust range of functionalities that allows your business to run without distractions and interference.
Automatically import client details from your e-commerce store to Vencru account. Client orders can be tracked as well as payment history, and favorite purchases. Improve customer service by storing up-to-date data about your customers. Send your customers birthday messages with our birthday reminders.
Collaborate with your team members
Have team members that help you sell across different platforms? Send invites to them and have them collaborate with you in providing bespoke services to your customers. They can create and send invoices, record payments, manage inventory, etc. The good thing is you can also give restricted access thereby, easily monitoring their activities.
Choosing the right accounting software for your e-commerce business
E-commerce platforms have become a reliable means to make sales online. You may own a physical clothing store and decide the open a store online.
Whatever your reason for shifting to an e-commerce platform, handling multiple businesses across different channels can be very challenging. How are you able to track your stores all in one place?
You definitely need software that can consolidate data across multiple channels. It should be easy to track performance across these different platforms. Vencru accounting software for e-commerce businesses has made it very easy to understand business performance.
Track your income without having to log into different accounting systems. Create and send professional invoices via email, or any of the social media platforms. Get simplified business insights, and understand how your business is performing as a whole. Gather all business information – expenses, inventory, and client information, in one place, thereby having a more organized system.
The best accounting app for e-commerce business
Need to be on the go and are worried about your managing your business? Not to worry, Vencru accounting app for e-commerce businesses has got you covered. Vencru e-commerce app for accounting software makes it possible for you to manage your business from anywhere.
You can review business reports, track stock to see what is available, and monitor sales. Don't inconvenience yourself by carrying a laptop everywhere. Your data is synced across devices, which means that you are always working with updated information.
Grow your e-commerce business with Vencru's double-entry accounting system
Vencru e-commerce double entry accounting software is built with the necessary tools needed to help your business succeed and grow. Get simplified and up-to-date business reports, which give you an insight into your business performance. With the business overview dashboard, gain quick knowledge of your sales,
inventory, and client performance.
We care so much about e-commerce businesses hence, why we have curated these simplified and easy-to-understand reports just for you. Stay on top of your financial statements with the business accounting software.
With simplified access to these reports, you can take more well-informed business decisions.
Vencru support team is always on the ground to provide the much-needed human support and interaction for your e-commerce business. We go above and beyond to attend to you on any of our support channels: Live Chat, E-mail, or WhatsApp
Start your 30-day free trial
Join over 25,000+ businesses already growing with Vencru.